Benefits of Air Knocker by EXEN
Versatility
It will perform and provide results on any necessary work type, especially effective against fine powders and tacky contents. The micro vibration created by air-vibration type will in fact deplete the air between particles, condensing the substance, which will in turn make it more difficult to discharge. In contrast, the strikes by the Knocker will successfully discharge the work even if the content is made of fine particles or those with viscidity.
The mechanism of blockade phenomenon caused by micro vibration.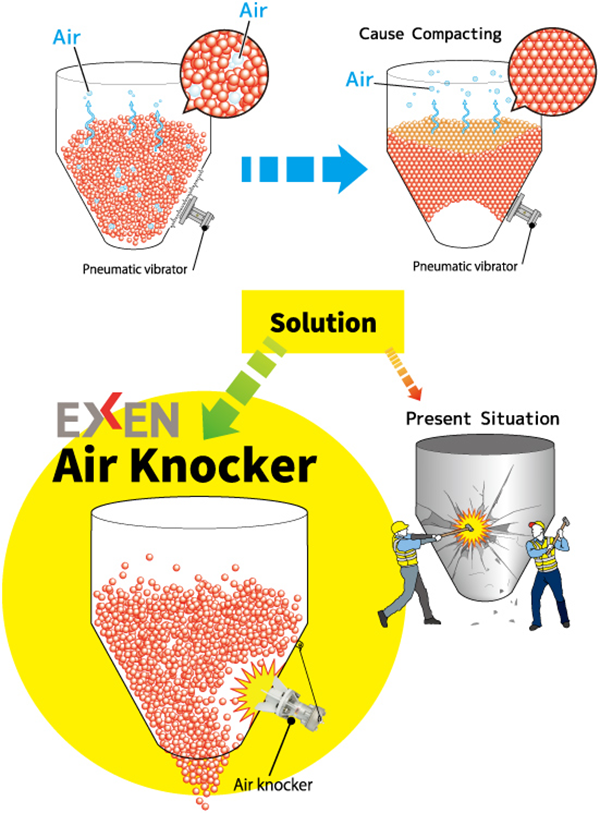 Easily adjustable impact power with our original variable technology, requiring just manipulation of air compression pressure
This original technology allows one Air Knocker to be effective in various work environment, against seasonal and content variations.
The following chart indicates the ability of just one Air Knocker to accommodate ranges equaling multiple hammer types.
Variability Graph of Knocker Models. Corresponding to wide range of hammers.
Model
Working Pressure (Mpa)
Impulsive Force
Correspond to Hammer pound
RKV20P
0.3-0.7
Below 0.6lb
RKV30PA
Below 1.0lb
RKV40PA
1.0-1.5lb
RKV60PA
1.5-3.0lb
RKV80PA
3.0-8.0lb
RKV100PA
6.0-15.0lb
Minimal consumption of air. Reduction of electricity in your factory!
In comparison, the air consumption rate for one knock of EXEN Air Knocker is dramatically lower than that of air vibrating type from competitors. Switching to our Air Knocker from air vibrating type in the similar class alone will greatly save you electric bills on compressors that account for 30% of electricity usage.
In comparison to piston vibration type in the similar class, you will be able to realize 85% reduction of air consumption. (In-house comparison)
Model
CFM
60PSI
EXEN Air Knocker
RKV60PA
VS
Company A Pneumatic Vibrator

MAX

1.2
(0.02 X 60 times)
7.4
85% reduction of
air consumption
Knockers with stainless steel-sanitary spec available as our standard model
Perfect for food, pharmaceutical and medicine production where corrosion is unacceptable! Moreover, the sanitary model (RKVS15, 20) can do away with inconvenient tightening of the bolts. Mounting and dismounting within 10 seconds without any tools, so it does not require time for daily cleaning. Air Knocker will eliminate minimum of 240 seconds conventionally used to mount and dismount the bolts using additional tools.

Simple Add-on
Easy installation with simple welding on blocked areas or where you want flow to occur. Because you do not need to drill a hole anywhere, installation is possible while the content (with exceptions) is still in the hopper/container.
For the U-bolt type, which is optimum for bonding to pipes, it can be easily installed with tightening of bolts. In this case, welding is unnecessary, only bolt tightening tool is necessary!
Simple Maintenance Work
Replacing expendable parts on-the-spot is made simple. With only 4 replacement parts, tasks can be completed with just one equipment. Maintenance work on one knocker takes only 10 minutes.
One second interval strokes is made possible with our original technology unlike any other products in the market
Extremely effective for places where blockage often occurs.
Comparison with competitor A 3 second intervals (Please see website)
Outstanding durability
Cleared testing of 1 million knocks. (Tested at our internal lab)
Great reduction of damage on expendable parts because it does not continually vibrate as air vibrating type devices. You will be able to use it continuously for 3 years when used twice per minute, 8 hours a day and 365 days straight! (length may vary due to work conditions)
Comprehensive Air and Electric Type Control Panel
Our standard control panel is operated by our original air compression technology for timer control. The air type control panel (AOC-1B, HKA500A) is electricity free so all you need to do is to connect the air pipes to the control panel without wiring nor piping. In addition, electric timer version is also available.